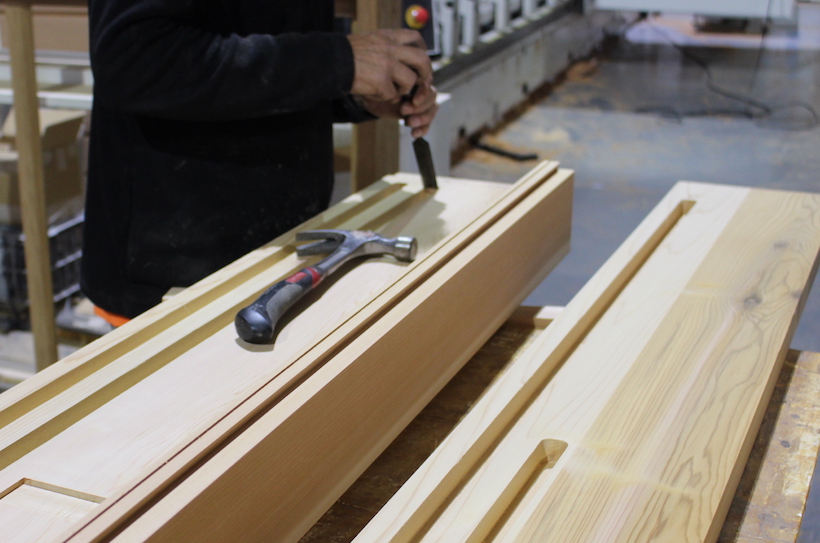 Originally Eden Made started out producing quality timber windows with a small combination machine back in 2000.
As the business focused more on quality not quantity and Eden's clients wanted more complex and innovative architectural designs in 2011 the company invested in a 3 axis CNC (Computer Numerical Control) machine to provide greater precision, flexibility and creative scope.
"We were the first company in Queensland to use such advanced machinery to design, cut and build timber windows and doors," said Grant Pratten, Managing Director of Eden Made.
The CNC machine worked brilliantly, paving the way for a raft of business improvements including more reliable production, superior product designs, more consistent quality and higher-standard finished products.
"What our team found was that the CNC machinery provided all the craftsmanship benefits of a traditional factory along with far greater flexibility and production turnarounds."
Latest technology increases design scope
In 2016 the Eden Made upgraded to a SCM 5 Axis CNC machine from Gabbett Machinery and went to Italy to train on Alphacam 3D software to further increases their design capability with the 5-axis machine."
"It's hard for a lay person to understand the advances of a 5-axis machine," said Grant. "Essentially while a piece of timber is locked in position it can be cut in a multitude of ways because the computer adjusts the blades to ensure each piece of timber is cut at the right angle or curve to the right thickness and so on. From our end it means we can craft some amazing designs out of one piece of timber. There is less risk of breakage and less glueing, which ultimately means a stronger product.
"As well, with each job, we program all the componentry we need into the machine, however because of the technology we are also able to improve the actual design of the products as well. So we get increased efficiency as well as increased accuracy and robustness." Grant added that Western Red Cedar was their timber of choice because it was sustainably harvested and also because it performed so well with the challenging designs they create.
CNC caters for greater complexity
"Using the best technology available is essential for business efficiency but also for delivering the increasingly complex designs that today's architects and home owners are seeking.
"For example, it's not uncommon for a brief to be a louvre window and an XXO sliding door incorporating windows in the glass panels and a fixed light with a silicone butt joint going around the corner, and the frame to be made as one with a mitre joint where it goes around the corner, with all the glass to be lining up for the panel to 3,500mm high and 3,000 mm long with a return of 1200mm.
"Homes are increasingly become works of art and feats of engineering and that is the market we want to play in. Our production quality is world class, enabling us to keep pace with a design market that is constantly pushing architectural boundaries and creative outputs."