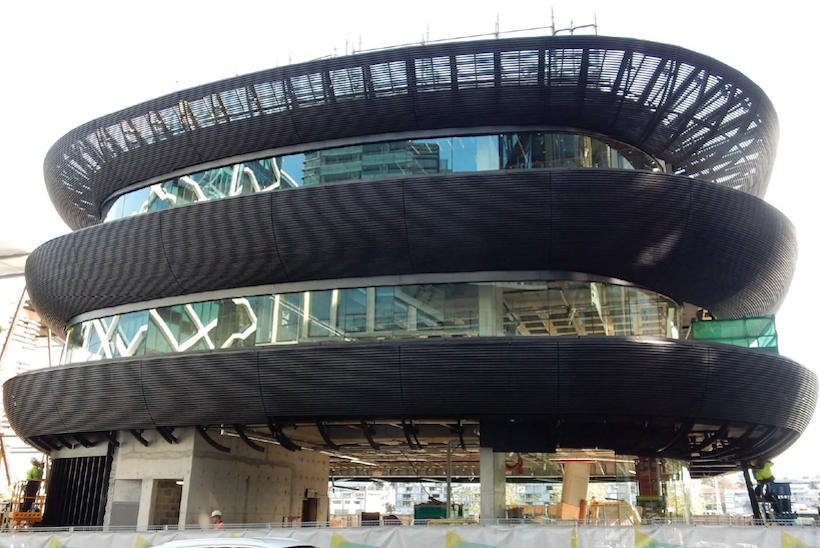 Eden Made has added Accoya as an exciting timber option for residential and commercial clients and is now experienced in working with this specialty product.
"We are very pleased to be able to offer Accoya to clients as it meets environmental standards and is highly suited to specific purposes and emerging design trends," said Eden Made's Managing Director, Grant Pratten.
"Of note it can be used for exterior joinery and is warranted to take dark paint. Dark colours retain rather than reflect heat, which can hasten deterioration of coatings and timber and previously would void warranties."
Accoya has been developed to cater for those wanting to feature darker shades and is warranted for 50 years above ground application. This design trend is a key feature of Matt Moran's new three-storey bowl-shaped restaurant, Barangaroo House, set to open next month in Sydney. (See image above.)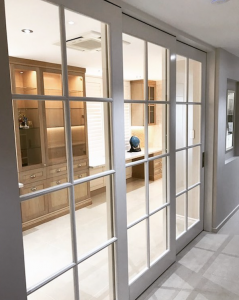 Commercially available internationally since 2007, Accoya is also suitable for internal use and standard colours. "In fact we recently used Accoya for stacker doors for an home office in a Gold Coast waterfront home," said Grant. "The doors were given the Hamptons' treatment with 2 pack coating." (See image on left.)
What is Accoya?
Contrary to popular belief, Accoya is not a species of timber but a process that uses acetylation to transform hydroxyl groups at the cellular level making them inert. This affects the water content of the timber and means the timber is not subject to warping, cracking or other movement. It is a permanent, irreversible process.
The Accoya that Eden Made uses is sourced from Britton Timber's plantation forests of Radiata pine and Adler. These forest are sustainable forests, with the average trees being harvested at 28 years of age. Once produced their Accoya is 100% recyclable, 100% non-toxic It can be safely incinerated and burned.
In fact accoya is well suited for Shou Sugi Ban treaments. It chars very well and can be used as a striking feature in this way.
Advantages of Accoya
Other advantages of the Accoya timber product is:
Improved insect and pest barrier
Retained natural strength and hardness
Very positive thermal efficiency (8% better than typtical softwoods, up to 50% better than hardwoods)
Due to 50 year above ground and 25 year below ground or in water guarantee, warranties can be transferred to future owners.
It's easy to work with, machines well producing a very flat surface and clean profile definition.
Because it is a specialist timber addressing versatile design applications, it retails for around 30% more than Western Red Cedar, advised Grant.
(With thanks to Britton timbers for supply of some images)