At Eden Made all of our timber doors are custom made to order. Nothing says you've arrived more than a stunning entry door and nothing says wow more than doors that disappear so your home becomes one with your garden or puts you right in the view.
This notion is as inspiring to our staff as it is to clients who often regard their doors as the pièce de résistance of their homes.
Doors done your way
We relish the opportunity to work with clients on what is for many a profound expression of their style and creativity.
In particular, the clever use of contemporary doors styles at the rear of your home is the key to creating your own piece of Eden.
Because of our custom approach when it comes to doors, the door is wide open.
Sustainable timbers

Option for over-size doors 1220mm+ wide x 3660mm+ high, with warranty

Stile width 110mm, bottom rail height 185mm

Stain grade exteriors with factory pre-finishing at component stage

Available with stainless steel multi-point locking hardware
Raised, Flat or V-groove panel profiles

Clear solid one piece jambs

Hardwood sills, with non sill options available

Superior performance ratings when it comes to energy ratings and will

Sills to match interior flooring
We also can supply wood-framed screen doors.
Popular Types
Our most common selection of doors includes the following.
Click for more detail.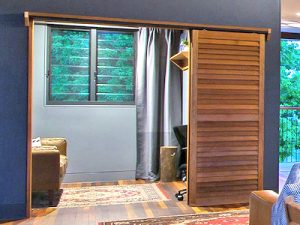 Of late we've noticed more of a trend towards minimalist, large-panel installations, some with unusual timber fretwork.
Exceeds Australian Standards
Australian NATA (National Association of Testing Authorities) approved laboratory (1764) tests confirmed that Eden Made doors far exceed Industry standards and comply with the highest performance ratings for doors in housing in Australia.
The Eden Made system is fully certified to AS 2047-99. The table below summarises NATA test results.
Australian Standard: 160 Pa minimum

Eden Made: 450 Pa
Australian Standard: 5.0 L/sec maximum

Eden Made: 0.05 L/sec
Australian Standard: 700 Pa minimum

Eden Made: 3000 Pa
Australian Standard: 1000 Pa minimum

Eden Made: 4500 Pa
Australian Standard: N1 minimum

Eden Made: N6
These results indicate that Eden Made doors are able to withstand cyclonic wind borne rain at 293 km/h.
Energy Efficient
With the building industry and governments committed to greenhouse gas reduction, and an increasing emphasis on energy efficient building products, Eden Made doors have a five star energy rating. We are focused on meeting the highest standards.
Weather Seals
Eden Made uses a system of weather seals that have been specially designed Into the product between all moving surfaces. This technique eliminates air and water infiltration and dramatically reduces the transfer of noise and heat energy.
Sustainable Timber
Timber is a natural insulator and the most environmentally sensitive choice you can make. Our timber is sourced from sustainable forests. As well, we use specially designed timber componentry to reduce energy transfer while increasing the strength and durability of our products.